EDF mapping reveals where traffic pollution harms children's lungs
New data on the connection between traffic-related air pollution and children's asthma
Making the Invisible Visible
New research from EDF–Making the Invisible Visible: Shining a Light on Warehouse Truck Air Pollution—shows some 15 million people live within a half-mile of a warehouse in 10 states across the United States. The research demonstrates how the burden from truck-related air pollution exposure is not evenly distributed. In all of the states studied, warehouses and the trucks they attract are disproportionately located in Black, Latino, Asian or American Indian communities as well as areas of low wealth.
Traffic pollution harms children's lungs
According to recent research, more than 1.8 million children per year worldwide develop asthma due to exposure to nitrogen dioxide (NO2), a traffic-related air pollutant that can cause irritation, inflammation, and damage to children's airways. This pollution contributes to a substantial fraction of new asthma cases in children – about 16% on average around the world. Children living in cities, including many US cities, suffer some of the highest burdens – globally, about two thirds of the total asthma burden occurs in urban areas. Within individual cities, the health burdens are large and not equally distributed. 
For example, in the Boston area, air pollution is estimated to contribute to around 2,700 children developing asthma annually. Across the region, around 1 in 5 cases of childhood asthma, on average, are estimated to be attributable to pollution – but in the neighborhoods with the most traffic-related pollution, it can be up to 1 in 3. The maps below visualize the distribution of pollution-attributable pediatric asthma for Boston and six other US metro regions including Austin, Baltimore, Chicago, New York, Philadelphia and Washington, D.C.*
Eliminating pollution from diesel vehicles is crucial
Heavy-duty trucks and other diesel-burning vehicles are a major source of toxic air pollution, and eliminating harmful pollution from diesel vehicles is crucial to protecting children's health.  Freight trucks and buses make up less than 10% of the vehicles on U.S. roads, but they are responsible for half of the transportation sector's nitrogen oxide emissions. EPA recently proposed stronger pollution standards for medium- and heavy-duty freight trucks and buses, but it needs to go much further to advance a rapid transition to vehicles with zero tailpipe emissions. States like Massachusetts can take action now to ensure electric trucks and buses are ready to play an important role in a clean transportation future.
New data can help prioritize pollution reduction in the most impacted places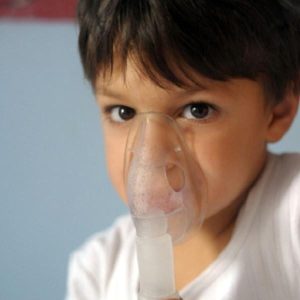 We also have an opportunity to protect our children by identifying communities overburdened by traffic pollution. The childhood asthma estimates above, like much current research, are based on statistical models of air pollution. These models leverage the best available data sources, incorporating satellite observations, emissions information, and government monitoring data, but due to data limitations, can still miss important local pollution hotspots.
New satellite data and community monitoring can help refine our understanding of pollution levels across cities and identify pollution hotspots. The US EPA's $20 million in grant funding for increased air quality monitoring in communities overburdened by pollution is an important step in this direction. Better information on emissions–especially around areas of high truck traffic like ports and warehouses–is also important to further illuminate sources and target solutions. 
Learn more about EDF's work to demand cleaner trucks and buses and healthier air for our kids.
*A note on the modeling used to generate these maps: estimates are presented at the census tract scale using data from Anenberg et al. 2022 for 2019. Results are based on a global model of nitrogen dioxide (NO2) estimated at the 1 ✕ 1 kilometer scale and relative risk estimates from a large epidemiological meta-analysis (Khreis et al. 2017). The NO2 model incorporates satellite observations, government monitoring data, and information on land use, including roadways. Due to data limitations, the model may not capture all local pollution hotspots, including hotspots associated with non-roadway sources or roadways with atypical traffic patterns (for example, high proportions of heavy duty vehicles).