While hyperlocal monitoring identifies pollution hotspots, source apportionment finds its cause. Because pollutants move through the air, they behave differently depending on wind, temperature and precipitation. By examining the impacts of weather on pollutants, we can pinpoint both the source of pollution and how far it travels. This kind of information can help communities design more cost-effective, impactful strategies to reduce pollution.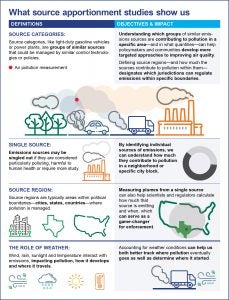 Different approaches based on available data and resources
Analysts use a variety of methods, depending on budget, capacity and existing data sources to pinpoint pollution sources. For example, source-based approaches start at the point from where air pollution is flowing and follow emissions as they mix, react, disperse and move through the atmosphere.   
Meanwhile, receptor-based methods work backwards to estimate the contributions of different sources. These methods improve in accuracy based on the number of pollution measurements and weather measurements or models available. 
Hybrid models combine components of each of those methods. Starting with ambient (outdoor) air quality measurements, these methods add information about air transportation, tracing it backwards to determine the path of various pollutants until they reach the sources. 
Ongoing pollution tracing in major cities
Source apportionment is at the forefront of EDF's scientific work in both London, U.K.  and Salt Lake City, Utah where we're using a variety of methods to track pollution as it moves through the air.