Houston, Texas
What we learned about pollution patterns and health inequities in Houston
Houston, the energy capital of the United States, is a sprawling metro area where industrial facilities mix with residential neighborhoods. The city's longstanding, hands-off approach to zoning means some industrial facilities are located near residential areas, leaving many people highly exposed to dangerous pollution.
Driving 32,000 miles in Google Street View cars, EDF measured and mapped air pollution across 22 neighborhoods. Here are our takeaways:
Houston school children

Nearly half of Houston's schools face elevated pollution

Our researchers found nitrogen dioxide (NO2) above the typical citywide levels outside nearly half (46%) of the schools and childcare centers in the areas we monitored. This kind of exposure to nitrogen oxides among children (NO and NO2) can result in the development and exacerbations of asthma and bronchitis.

Neighborhood roads can be as polluted as areas near major freeways

Metal recycling and concrete batch plants are magnets for heavy duty trucks that emit black carbon and nitrogen oxides (NOx) in many of Houston's residential neighborhoods.

At one-third of these facilities in the neighborhoods we sampled, researchers found pollution levels similar to the areas near highways, demonstrating how the city's lack of zoning places children in the path of harmful pollution. In fact, nearly a third (29%) of the area's concrete batch plants and more than half (51%) of the area's metal recycling facilities are within a half mile of at least one school or childcare center.

Mobile monitor attached to Google Street View car in Houston
Houston Teens Care About Clean Air
This spring, EDF's Environmental Youth Council hosted its 6th annual Houston Teens Care About Clean Air Student  Video Contest. The Environmental Youth Council works with high school students from the Houston area to enhance their environmental health knowledge and give back to their local community.
First-place winners Ebun, Daniel, and Coleman from William B Travis High School in Fort Bend County focused on the impacts of Houston neighborhoods' proximity to polluting factories in their noir-style detective mystery Soot and Shadows.
Houston lives in the Piney Woods Region, but development poses a threat to these natural forests, as Houston's Paper Trail: A Clean Air PSA points out. Lilly from Atascocita High School won second place for her stop-motion video raising awareness of this issue.
See all 69 submissions on the Environmental Youth Council's page. We are so proud that young Houstonians are fighting for a cleaner earth and cleaner air.
Your postal code can impact your health
In the Houston area, many of the communities that are plagued by high pollution levels are also home to people of color, individuals facing chronic illnesses and residents who struggle financially.
Clusters of metal recyclers and concrete processing plants occupy parts of the city's Fifth Ward, where our study found NO2 levels 48% higher than the rest of the city. More than 90% of the residents of Fifth Ward are people of color, and 40% live below the federal poverty line. They face higher rates of asthma, chronic obstructive pulmonary disease (COPD), coronary heart disease and stroke. Life expectancy is nearly a decade lower than the rest of the region (69 years compared to 78 years).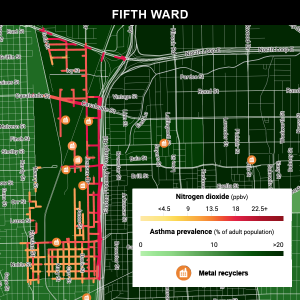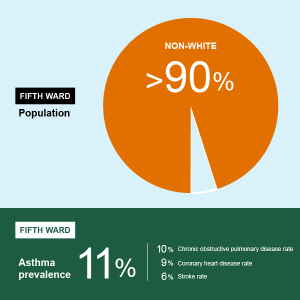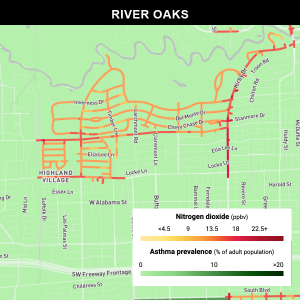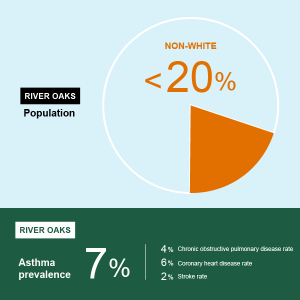 Residents of River Oaks, by contrast, have no major industrial sources in their community and enjoy lower levels of pollution. Its largely white population is one of the wealthiest in the area, and its residents have less asthma, COPD and fewer strokes than the area average. They also live longer (85 years) than their regional counterparts.
Learn more about EDF's clean air work in Houston, Texas including our partners, research methodology and advocacy efforts.
"The pollution outside of 1/3 of the concrete batch plants and metal recyclers we surveyed was similar to that in the areas along major freeways."