Data to Action
Working with partners around the world, we're turning data into clean air action.
"When I was a baby, my mom dressed me in a white outfit, put me in the carriage, and by the time our stroll started, I was covered with soot. This story, along with witnessing the disproportionate impact of poor air quality on community of color, has inspired me to work in this space… I primarily see the world and my research from a systems-level view, using the sustainability tool of life cycle assessment to quantify the environmental impacts of the built environment (BE)."
Precision data fosters meaningful change for clean air
While traditional air pollution monitoring can give us a sense of a region's overall air quality, new sensor technologies and data analyses can pinpoint hotspots where air quality is poor, creating opportunities for both clean air advocates in the community and local governments to target their efforts addressing the problem.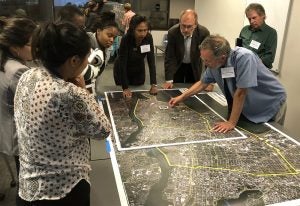 As communities gain greater insights into local pollution and its health impacts, they are taking steps to advance clean air policies. In Oakland, the West Oakland Environmental Indicators Project is leading an effort under the state's Community Air Protection Program to reduce pollution. This community-led air improvement plan utilized air pollution, health and population data to push to limit commercial truck traffic near an area that features childcare centers, a school, a clinic and low-income housing.
Emerging Partnerships
EDF and the Latin America and the Caribbean (LAC) Office of the United Nations Environment Programme (UNEP) have launched a new partnership to build clean air solutions in 33 Latin American and Caribbean countries over the next four years. 
This collaboration aims to leapfrog barriers to advancing clean air in the region, which is home to more than 650 million people. Through cutting edge technologies, data analytics and deep partnerships across the region, we're working to improve public health and reduce climate pollution to build a vital earth for everyone.
Traffic policy: London's sensor network identified an NO2 hotspot close to a bus garage in a residential area in Holloway. The government entity responsible for Greater London's transport system, Transport for London, has been working with the bus operator to find ways to reduce pollution and improve air quality, including stopping buses idling outside the garage. Data shows pollution has since gone down.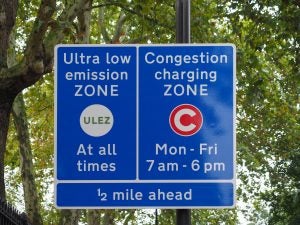 In London, we also found that air pollution created by diesel cars was higher at study locations in neighborhoods outside the central Ultra Low Emission Zone (ULEZ). The analysis raises a red flag to policymakers that Outer London needs targeted action, and serves as part of a larger push to end the sale of diesel vehicles in the U.K. by 2030.
This kind of data also means local governments can more precisely target enforcement measures, helping preserve resources when they may be strained. Learn more below about how our research is developing actionable data.