Mexico City is known around the world for its culture and rich history, but also for its struggle against air pollution. The information provided by the city's state-of-the-art air quality monitoring system has been crucial for triggering large-scale actions that have made air quality significantly better over the last thirty years. However, the system also reveals that there are still seasonal spikes of high pollution levels and that air quality improvement trends slowed down during the last decade. In late 2019, new measures were officially announced by the Environmental Commission to reinforce air pollution abatement efforts, one of them focused on technology innovation.
That's why last September I joined environmental authorities from the Government of Mexico City, the Government of the State of Mexico, the Environmental Commission of the Megalopolis, and the Federal Secretariat of Environment and Natural Resources to launch a working group and a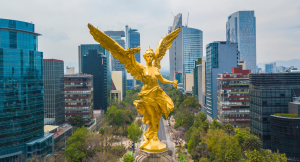 collaborative effort aimed to design a methodology for a proof of concept of hyperlocal air quality monitoring system in the Mexican capital that supplement city's existing monitoring network to catalyze innovative actions for improving air quality.
The importance of hyperlocal monitoring
New international research has shown that air pollution varies at the street level, and can be vastly different for families living only one block away. Cities around the world including London, Beijing, Los Angeles and Medellin have been using microsensors for air quality monitoring and are seeing excellent results. With this data, practitioners are broadening their knowledge and capacities to localize and prioritize key areas where immediate action to mitigate air pollution is required.
Hyperlocal monitoring provides compelling evidence to make the case for air pollution abatement actions and can help inform the design of transformational interventions and investments in key sectors such as in transportation, land use and infrastructure. It also empowers communities to reduce exposure and foster localized solutions to protect public health, reduce health inequities and pursue environmental justice.
A step forward to make the invisible visible
This June, our working group launched a proposed methodology for designing and implementing a community-level air quality monitoring system in a 19 km2 area in the northern part of Mexico City. The study area was explicitly selected for the coexistence of a mix of major pollution sources (industrial facilities, transportation hubs and freight and major passenger roadways) with vulnerable groups exposed to air pollution in multiple hospitals, schools, parks and sport centers, in an area with high population density with diverse socioeconomic backgrounds.
The methodology has been based on a sound analysis of the local context and conditions in Mexico City, the best available information about hyperlocal technologies, and the current best available practices in this field. In particular, it has been grounded in EDF's experience with similar projects around the world, incorporating insights from national and international specialists and systematized recommendations and tools for designing hyperlocal air quality monitoring networks to catalyze clean air solutions as outlined in our Making the Invisible Visible: A Guide to Mapping Hyperlocal Air Pollution to Drive Clean Air Actions, and the Breathe London Blueprint guides.
Importantly, the methodology included broad participatory process involving experts in relevant fields from major universities, research centers, civil society organizations, international development institutions and government agencies, which ensured that the proof of concept hyperlocal air quality network design and approach was built upon the solid Mexican experience in comprehensive air quality management.
What's next
Based on the design of the proof of concept, the Mexico City government will prepare the implementation of the first phase. This consists of a performance assessment of technology options needed to execute the hyperlocal monitoring and development of institutional capacities needed for operation, maintenance, data management, and communications for this monitoring system.
As we look towards the future, it's critical to have this hyperlocal data to enhance institutional capacities, build community support and forge evidence-based policies that drastically reduce pollution while building more resilient communities. We are excited by the opportunity that this partnership offers in advancing clean air for all.